Posts: 3161
Joined: Thu Mar 13, 2008 10:36 pm
Location: at home by the sea
T
he AGO reveals Leonard Cohen's full artistry when the new exhibition Everybody Knows opens Dec. 7
Featuring rarely seen materials from the Leonard Cohen Family Trust, the exhibition explores Cohen's dynamic artistry and spiritual journey through his own art, photographs, lyrics and writings
https://ago.ca/agoinsider/everybody-knows
https://ago.ca/exhibitions/leonard-cohe ... body-knows
September 21, 2022
Cohen at Home, 2001. black and white instant print [Polaroid Type 672], Overall: 8.3 × 10.8 cm.
Courtesy of the Leonard Cohen Family Trust. @ Ethan Hill
Today marks legendary Canadian artist Leonard Cohen's birthday. Though he would have been 88, his groundbreaking body of work will live on forever. A poet and novelist, a singer, songwriter, painter and photographer, Cohen was an artistic force. This December, the Art Gallery of Ontario (AGO) invites visitors of all ages to see Cohen as the multidimensional artist he was, on and off the stage – through photographs, artworks, notebooks, video, his poetry and prose. Curated by Julian Cox, the AGO's Deputy Director and Chief Curator, and organized with the exceptional support of the Leonard Cohen Family Trust and Musée d'art contemporain de Montréal, Everybody Knows opens at the AGO on December 7, 2022.

Leonard Cohen was a seeker, who throughout his life probed the depths of the human heart - but it was his songs of beauty and melancholy that catapulted him to international stardom and came to define him as an artist. Born in Montreal, he remains the only Canadian to have received both a Governor General's Award for Poetry and an induction into the Rock n' Roll Hall of Fame.

The first museum exhibition to present materials from the Leonard Cohen Family Trust, Everybody Knows demonstrates — through rarely seen and deeply revealing photographs, drawings, journals, letters and self-portraits, artworks and objects — not only the breadth of his achievements, but his many influences and cultural impact.

"What Cohen's fame as a singer and songwriter tends to obscure, is just how multifaceted he was as an artist. It's when you see his sketches, his photographs, his watercolours, his lyrics for Hallelujah, that a fulsome portrait of the artist is revealed – a creator at once playful, wry and deeply spiritual. This exhibition is a celebration of Cohen's innate artistic force, and we are excited for visitors to discover – or re-discover the artist they think they know," says Cox.

The exhibition will be accompanied by an illustrated hardcover 168-page catalogue, co-published by the AGO and DelMonico Books • D.A.P., featuring contributions by Julian Cox, Jim Shedden, Joan Angel, Robert Kory, Alan Light and Michael Petit. Leonard Cohen: Everybody Knows will be available in shopAGO this winter.

Organized chronologically and presented in the Sam & Ayala Zacks Pavilion at the AGO, Everybody Knows is an exhibition suffused with Leonard Cohen's voice. Featuring more than 200 artworks and objects, many rarely seen, the exhibition is equal parts shadow and light, with striking blue wall accents, reflecting his deep connections to Quebec, Israel and Greece. The exhibition features extensive loans from the Leonard Cohen Family Trust, complemented by loans from University of Toronto's Thomas Fisher Rare Book Library, Stephen Bulger Gallery and the Musée d'art contemporain de Montréal.

Through home movies, early poems and photographs, the exhibition introduces us to the artist as a young man and to his family, his neighbours and his synagogue. A graduate of McGill University, he rejected business to pursue poetry, leaving Montreal in 1960 for the island of Hydra, in Greece. He wrote Let Us Compare Mythologies, his first collection of poetry there, and photographs of him, letters, and the key to the house which he purchased in 1961, illustrate this Bohemian lifestyle.

Disappointed in his literary career and encouraged by singer-songwriter Judy Collins, Cohen abandoned Greece for America in the mid-1960s and releases his first solo album in 1967. A selection of polaroid photos, taken by Cohen, highlights this transition. In his notebooks from this era, visitors can read his ongoing fascination with guns, with Scientology, with the Chinese I-Ching. From Stephen Bulger Gallery are three portraits of Cohen by the Toronto photographer Arnaud Maggs, taken during Cohen's time in Nashville.

Previously unreleased footage from Cohen's 1972 European tour, compiled and edited by the Leonard Cohen Family Trust, reflects Cohen's ascendancy in popular music. Photos and correspondence from the early 1970s, highlight an artist adjusting to fatherhood. A photo capturing his 1973 visit to the Wailing Wall in Jerusalem, is nestled alongside correspondence between him and his sister, referencing the Yom Kippur war.

A selection of photographs and drawings by Cohen from the 1980s are accompanied by drafts of some of his iconic songs from the period, including Everybody Knows and Hallelujah. Watercolours, often accompanied by witty texts, were an ongoing activity, and two slide shows presents details from key notebooks that he worked on during this decade.

A bonafide superstar by the 1990s, Cohen's ever widening artistic circle is reflected through correspondence, collaboration and photographs of him with Philip Glass and KD Lang, Iggy Pop, Bono, Elton John and others. Personal effects – his iconic trilby hat, dress shoes, and keyboard - suggest an artist very much still with us. His retreat to a Buddhist monastery in the late 90's is captured in journal entries, photographs, and drawings.

Intensely prolific throughout the late 1990s and 2000s, the exhibition documents the artist's last decade with a wall sized installation of 25 LPs, a slideshow of digital self-portraits created by Cohen and video footage from his final concert in Tel Aviv, where he delivered a closing blessing in both English and Hebrew.

Anchoring the exhibition are two large-scale multi-channel works from Montreal-based artists Kara Blake and George Fok, commissioned by the Musée d'art contemporain de Montréal. A five-screen video compilation, Blake's Offerings (2017) invites visitors to hear Cohen reflect on his own writing and songs. An immersive introduction to Cohen as a performer, Fok's acclaimed 56-minute long multi-screen video installation Passing Through (2017), presents a collage of performance culled from more than four decades.

Leonard Cohen: Everybody Knows opens December 7 in the Sam & Ayala Zacks Pavilion at the AGO.

Leonard Cohen: Everybody Knows is organized by the Art Gallery of Ontario, Toronto with the exceptional support of the Leonard Cohen Family Trust and Musée d'art contemporain de Montréal.
another link -
https://www.webwire.com/ViewPressRel.asp?aId=294582
Sounds great!
Last edited by
B4real
on Fri Sep 23, 2022 2:09 am, edited 1 time in total.
It doesn't have to be perfect, it just has to B4real ~ m

e
Attitude is a self-fulfilling prophecy ~ me ......
The magic of art is the truth of its lies ~ me ......
Only left-handers are in their right mind!
To inaugurate the Art Gallery of Ontario's upcoming Everybody Knows, an immersive new exhibition that excavates the material of Cohen's creative life — through everything from photographs and illustrations to Cohen's notebooks and instruments — Robinson brings an intimate performance of her new show, My Time with Leonard Cohen, an evening of music and personal reminiscences, to the AGO on Dec. 9.
Full article in link below -
https://www.leonardcohenforum.com/viewt ... 17#p379517
It doesn't have to be perfect, it just has to B4real ~ m

e
Attitude is a self-fulfilling prophecy ~ me ......
The magic of art is the truth of its lies ~ me ......
Only left-handers are in their right mind!
2008 --
Brugge, Amsterdam, London, Berlin, Helsinki, Oberhausen, Rotterdam
-- 2008
2009 --
Antwerpen, Venice, Barcelona
.-- 2009
2010 --
2 x Gent, Lille, 2x Las Vegas, --
2010
2012 --
Gent, 2 x Amsterdam, Dublin, Verona
-- 2012
2013 --
Pula, Rotterdam
-- 2013
-- +++
https://www.icantforget.nl
-- +++
It doesn't have to be perfect, it just has to B4real ~ m

e
Attitude is a self-fulfilling prophecy ~ me ......
The magic of art is the truth of its lies ~ me ......
Only left-handers are in their right mind!
Posts: 1036
Joined: Tue Jul 22, 2008 12:41 pm
Everybody Knows — Leonard Cohen's vision of a society rotten to its core
Darkness and humour pervade a track that yielded some surprising cover versions
Leonard Cohen in the mid-1980s
from the financial times.
In the mid-1980s Leonard Cohen was mired in a deep depression. His most recent album, 1984's Various Positions, had received a lukewarm reception and had been turned down by Columbia Records in America. The ignominy almost proved too much to bear for the Canadian songwriter, who began toying with the idea of retiring in order to join a monastery.
But something stopped him. The lucent spirituality which had shone through his last record, not least on the hymn-like "Hallelujah", was gone, leaving behind an unshakeable feeling of cynicism and resignation. "I got some sense ... this is the fallout, the residue, the dust of some catastrophe, and there's nothing to grasp onto," he would later say of his apostasy.
This fatalism eventually liberated Cohen, who found himself feeling freer to take more risks in his songwriting. The result was 1988's I'm Your Man, a profane, ironic and searingly honest album. And no song better encapsulates Cohen's new-found identity as the mordant, weary sage than "Everybody Knows".
For nearly six minutes Cohen unveils a defeatist vision of a duplicitous and morally benighted world. Darkness seeps through the track in both Cohen's cigarette-infused snarl and the foreboding melody, which sees a heavy synth beat uncannily accompanied by sinuous oud. The lyrics, polemical and poetic, were co-written by Cohen with longtime collaborator Sharon Robinson, and touch on everything from racial and financial inequality to drug abuse, the Aids crisis and infidelity — albeit in his own wonderfully oblique style. Yet the song's tone isn't that of po-faced admonition but of gallows humour born from a realisation that you can't change a society that is already rotten to its core; we can picture Cohen smirking as he delivers the line: "Everybody knows that you've been faithful, give or take a night or two."
These are not lyrics that one would expect to hear sung by a peppy 21-year-old pop star. But in 2017 the Norwegian singer Sigrid covered "Everybody Knows" for the DC Comics Justice League film, bringing Cohen's words to an entirely new audience. In fact, her mellifluous, if overly earnest, piano-led rendition has already garnered three times as many views on YouTube as the original. And despite the incongruous context, Sigrid's cover does well to retain the song's inherent eeriness.
"Everybody Knows" was also prominently featured on the soundtrack of the 1990 cult-favourite teen-angst film Pump Up the Volume, for which a new version of the song was recorded by alt-rockers Concrete Blonde. Their cover succeeded in adapting Cohen's unmistakably 1980s synth sound to the guitar-dominated age of grunge, while lead singer Johnette Napolitano takes care to accentuate the sardonic lyrics with her arch vocal performance.
In 1995 an eclectic group of artists was assembled to record covers for a compilation album in celebration of Cohen's career. The former Eagles frontman Don Henley chose "Everybody Knows" and rather jarringly turned Cohen's macabre tune into a catchy singalong rock anthem featuring a bluesy organ and guitar accompaniment. Eleven years later it was the singer-songwriter — and father to one of Cohen's grandchildren — Rufus Wainwright who recorded "Everybody Knows" for a new tribute anthology. In the starkest of tonal shifts, Wainwright decided to reimagine the song as a swinging, sultry bossa nova hit complete with accordion, snare drum and brass section. Somehow it works.
The Innu-Canadian singer Florent Vollant took things a step further in 2004 by completely rewriting the song in the indigenous Inuktitut language. This version, called "Tshissensitenanu", retains the general rhythm of the original but replaces the caustic lyrics with new, touchingly identity-affirming words about the Innu people.
Perhaps the best cover, though, was the one performed by Norah Jones at a show in Paris soon after Cohen's death was announced in November 2016. Now a staple of her live sets, Jones's take on "Everybody Knows" is a pared-back affair. Her velvety vocals and jazz piano licks give it a pleasantly languid mood and an intimate lounge-bar sound; it almost makes us feel as if we, her listeners, are a select group to whom the hard truths about the world have been revealed in confidence.
In reality though we are among the millions on whom Cohen's striking words have left their indelible mark. It's no surprise that the song came fourth in a Rolling Stone readers' poll of his greatest hits, but the fact that three tracks came ahead of this particular masterpiece emphasises Cohen's stature as a near-peerless songwriter. Then again, everybody knows that already.
Do you have any personal memories of 'Everybody Knows'? Has anyone surpassed Leonard Cohen's version? Let us know.
-------------------
plus review in the art newspaper.
https://www.theartnewspaper.com/2022/12 ... body-knows
I am hoping to see this exhibition before it finishes in April. Has anybody been yet?

Wendy
Wendy, I hope you do get to see this exhibition.
This thread is the closest I'll every get to do that
Here's an outside extension of it.
AGO displays Leonard Cohen in a modern light
https://strategyonline.ca/2023/01/23/th ... ull-cohen/
A campaign for a new exhibit displays quotes from the artist in places where they would be the most provocative.
By Justin Crann
1 day ago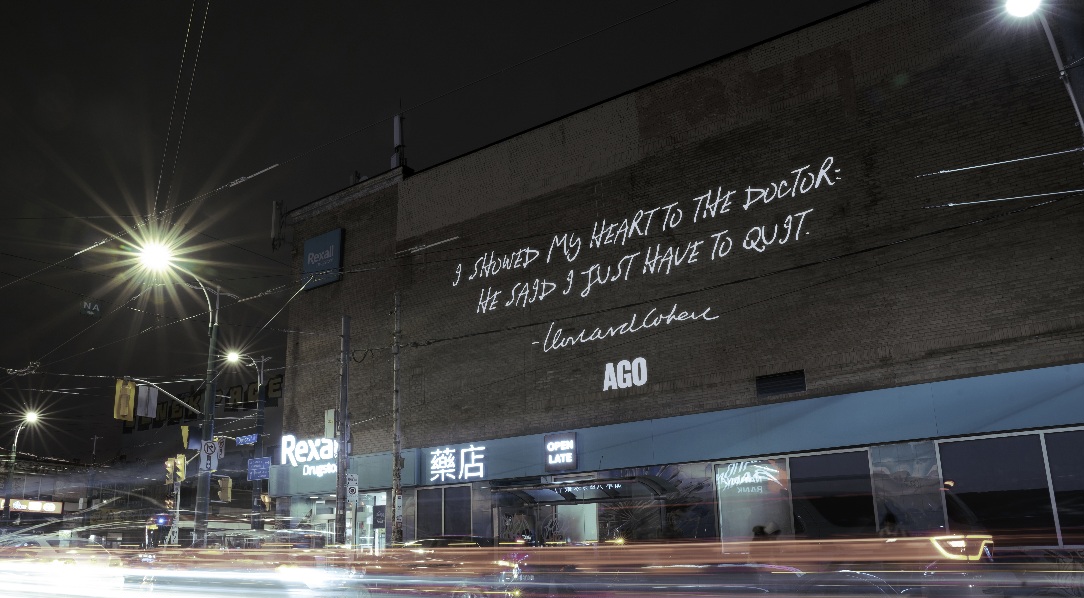 The words of poet and songwriter Leonard Cohen are being shown in a new light – literally – in a new campaign from the Art Gallery of Ontario (AGO).
The effort capitalizes on the relative darkness of the winter season to find new ways to illuminate the artist's own words, and in his own hand-writing – specifically through OOH projections of his words in contextually relevant places.
For example, "I showed my heart to the doctor. He said I just have to quit," is projected on the side of a Rexall pharmacy. A space under a sign for the Ted Rogers School of Management reads, "I have no program, I have no five-year plan." A downtown office building know for housing various tech companies has a projection reading, "They sentenced me to twenty years of boredom, for trying to change the system from within."
Those displays are paired with a broader campaign on transit – including a Union Station takeover – as well as digital and social.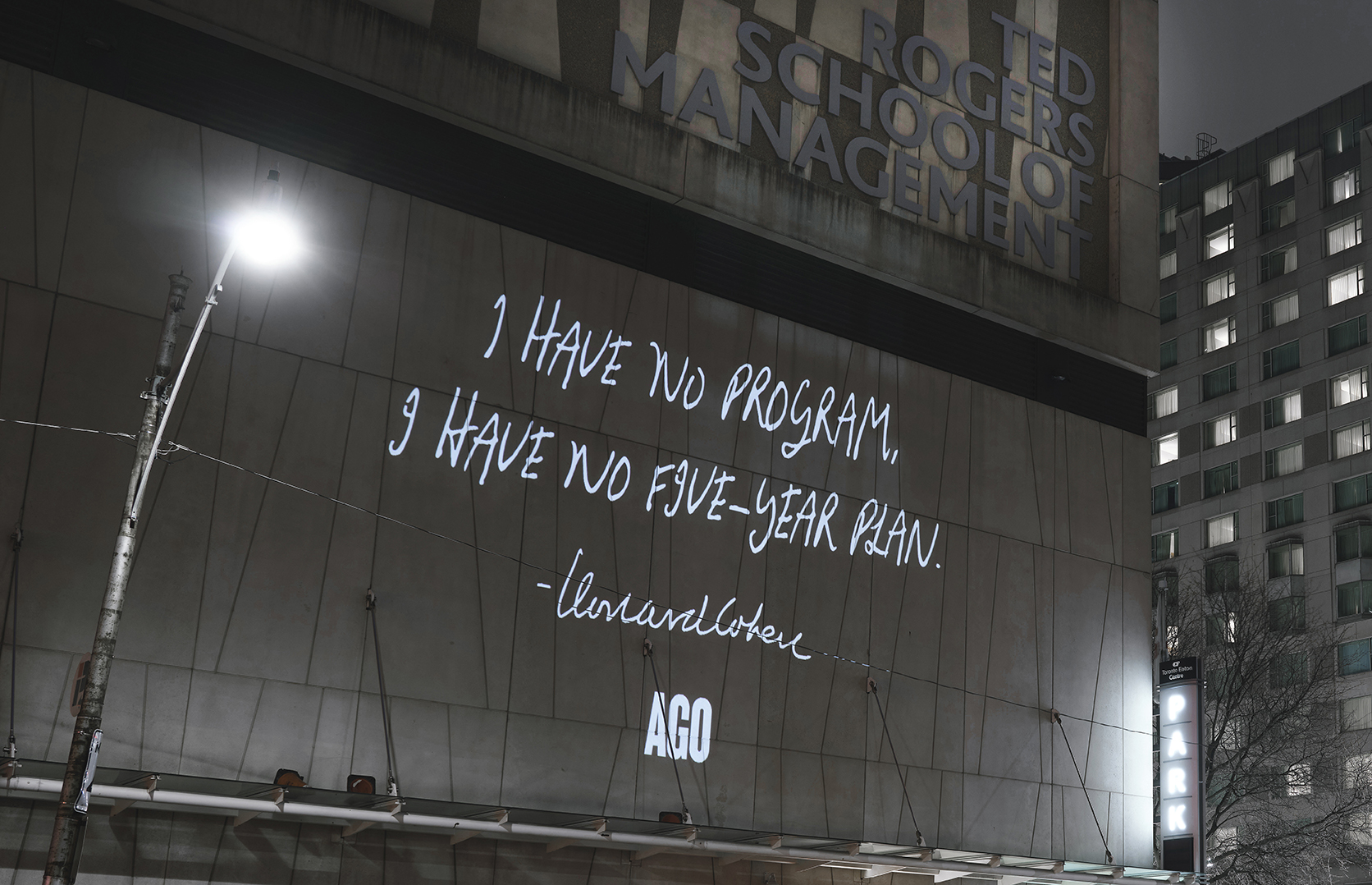 The campaign is in support of the AGO's new exhibition, Leonard Cohen: Everybody Knows, which uses rarely-seen archive material – such as concert footage, instruments, notebooks, lyrics and letters – alongside photos and art by the man himself to reveal lesser-known details of his multifaceted life and career.
"The campaign honours the sentiment of the exhibition, which is that everybody thinks they know Cohen. But really – as with any human being – there is so much more beneath the surface," says Kimber Slater, director of brand marketing for the AGO. "The marketing campaign invites you to 'Get the story behind the words,' and that's really what this exhibition does."
The behind-the-scenes nature of the exhibit is meant to attract existing Cohen fans who want that inside story, but the impactful and provocative nature of the campaign is meant to draw in "novices" that might not be as familiar with his work.
"Leonard Cohen was a true artist in his writing, and he expressed himself in a variety of media through the years," adds Erin Kawalecki, partner and CCO of Angry Butterfly, which was tapped by the gallery in September to develop the campaign. "He was witty, he was playful, he was an acute observer of the human condition, and as the exhibition shows, he never stopped creating."
It doesn't have to be perfect, it just has to B4real ~ m

e
Attitude is a self-fulfilling prophecy ~ me ......
The magic of art is the truth of its lies ~ me ......
Only left-handers are in their right mind!