Leonard will be 80 on September 21. It's time to discuss how the fan community could commemorate this very special day.
Ten years ago
, for his 70th birthday, we had this special stamp issued by the Finnish postal authority:
320 members donated to the stamp project, and their names were listed on a Birthday Certificate given to Leonard on his birthday. Also a special birthday postcard with the stamp, postmarked on September 21, was mailed to all of them.
The whole story is at
http://www.leonardcohenfiles.com/bday.html
Five years later
we celebrated Leonard's 75th birthday: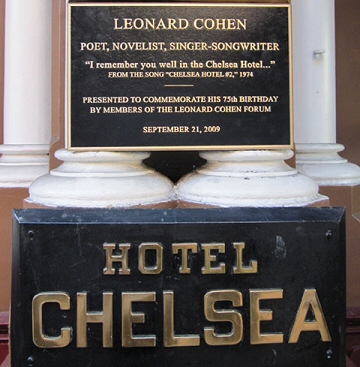 Thanks to our successful campaign, Leonard joined Dylan Thomas, Brendan Behan, Thomas Wolfe and other luminaries with the plaque dedicated to him at the entrance to the Chelsea Hotel, 23rd Street, New York City.
More at
http://www.leonardcohenfiles.com/ch-plaque.html
Now we need new ideas – YOUR ideas - for the next big Birthday!
In our view a traditional gift would not be the best way; Leonard got thousands of gifts during his tours 2008-2013! We need something unique!
Looking forward to your suggestions!!
Marie & Jarkko