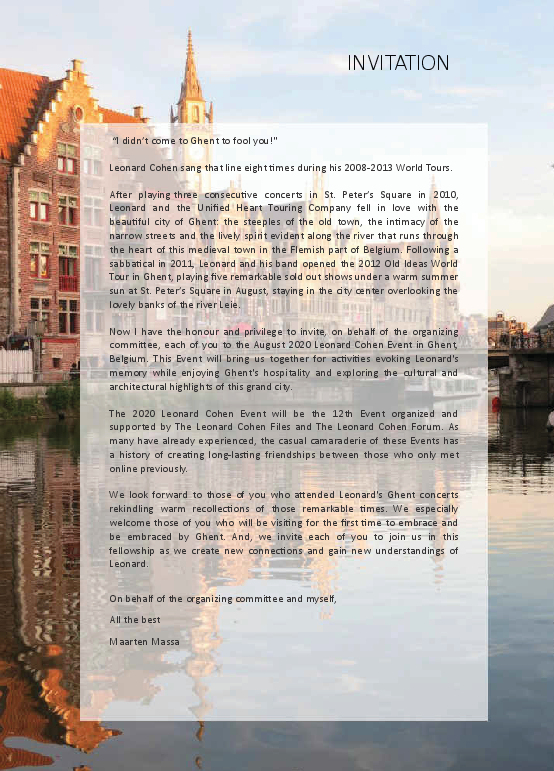 1988, 1993: Helsinki||2008: Manchester|Oslo|London O2|Berlin|Helsinki|London RAH||

2009:

New York Beacon|Berlin|Venice|Barcelona|Las Vegas|San José||2010: Salzburg|Helsinki|Gent|Bratislava|Las Vegas||

2012:

Gent|Helsinki|Verona||

2013:

New York|Pula|Oslo|||
Posts: 22
Joined: Wed Aug 13, 2014 11:45 am
Great news! I hope to be there in 2020 - so sorry to miss the music and friendship in Budapest....
Rita Garland
I hope so very much that I can come to the Ghent Event. That's a beautiful invitation, Maarten.
"Be yourself. Everyone else is already taken."
~ Oscar Wilde
Awesome news! Having been to Gent a number of times I can see why LC loved it. It's so much like Old Montreal! Barring the unforeseen I plan to be there in 2020. Any idea about the timing?

Groetjes,
Margaret
Hi Maarten,
Great news! I will be there...
mary emma
Hi Margaret
The Leonard Cohen Events usually take place in the beginning of August, so either the first or second weekend of August 2020 (July 31 - Aug 2 or Aug 7 - 9) depending on the availability of the venue I would like to get and the (main) artists. As soon as a decision has been made concerning the dates, we will post this information here so you can circle those dates in your calender.
Hope to see you there!
All the best
Maarten

2008 Manchester | Bruges | Amsterdam | London | 2x Brussels | Rotterdam |2x London
2009 New York | Cologne | Antwerp | Venice | Colmar | Barcelona | Las Vegas | San José
2010 Salzburg | 2x Sligo | Helsinki | 3x Ghent | Lille | 2x Las Vegas
2012 5x Ghent | 2x A'dam | Helsinki | Dublin | Verona | 3x Paris | Lisboa
2013 Paris | Antwerp | Oberhausen | Brussels | Pula | Rotterdam | Amsterdam | 2x Wellington | Auckland
---
Who is online
Users browsing this forum: No registered users and 1 guest