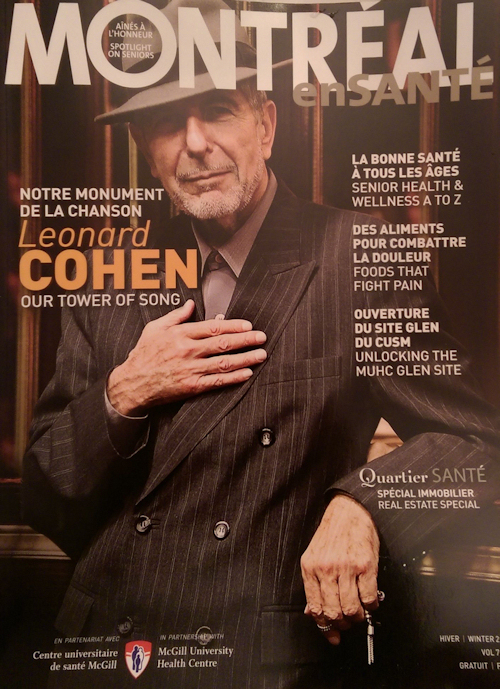 Leonard Cohen reaches new heights in his 80th year

By Jason Santerre

The day his father died, Leonard Cohen buried the first piece of prose he ever wrote. "He cut open one of his bow ties, sewed a message into it then buried it in the garden behind his home," writes Ira B. Nadel in Various Positions: A Life of Leonard Cohen. Art and sacrament, ritual and writing became fused in this expression of grief. And it was this kind of sorrow that would fuel the major themes in Cohen's life and work.

Søren Kierkegaard said a poet is an unhappy being whose heart is torn by secret sufferings yet his lips are so "strangely formed that when the sighs and the cries escape them, they sound like beautiful music." The Danish philosopher could have been describing Cohen — bard of bummers, crowned prince of melancholia.

Of course, many critics and even fans would argue that Cohen's lips form more of a croak than a croon. But it's impossible to dismiss the beauty behind Cohen's words. Both his lyrics and poems steeped in the lyrical style have garnered accolades and honours the world over, from a Governor General Award and the Order of Canada to a Grammy for Lifetime Achievement and an induction into the Rock And Roll Hall of Fame.

He wasn't born with the "gift of a golden voice," no, but he certainly was born with silver spoon in mouth. Entering the world in Westmount on September 21, 1934, little Leonard never knew hunger, cold, or poverty. But it wasn't all red wine and roses. There was plenty of darkness at the periphery.

For one, Cohen's mother, Masha, was prone to depression and most certainly passed it on to her only son. Add the sudden death of his father, the suicide of an early guitar-teacher friend and the conflict between his desire to be an artist and the obligations of an upper middle-class life, and it's easy to see how Cohen started out scattered if not completely shipwrecked. "There were times when I couldn't get out of bed, when the storm in my brain overtook me," he told Nadel.

Securing some form of happiness let alone success has been a lifelong process. Exactly 80 years and one day after his birth, Cohen released his 13th studio album, Popular Problems in 2014. Although not prolific by some standards, three of those 13 albums were recorded in the last decade. Grey hair and wrinkles have not dulled his creative energy. Cohen tapped into that energy to complete a recent two-year world tour — each sold-out performance equal amounts spectacle and marathon as he runs a three-hour gauntlet of song, dance (yes, dancing!), and recalling lyrics he wrote over 40 years ago. It's a test of stamina for someone half his age.

These are halcyon days for the artist, father, grandfather, musician and poet, but it was a long time coming. About a decade ago, the veil of depression he'd lived under for most of his adult life finally lifted. In an interview with The Observer, Cohen said he was sitting in his kitchen one day, looking out a window when he saw sunlight shining on chrome fenders of parked cars and thought, "Gee, that's pretty. This must be how everybody feels." Life didn't become easier, just simpler. "The backdrop of selfanalysis I had lived with disappeared," he said. "It's like that joke: When you're hitting your head against a brick wall, it feels good when it stops."

Seventy years of age might be quite late in life to have that kind of epiphany, but Cohen had spent most of six decades looking for remedy in drugs, drink, and various religions. It was while delving into the latter when he stumbled upon Zen Buddhism.Cohen delved so deeply he eventually became an ordained monk and, for a time, lived at a Buddhist retreat in California.

Despite his extensive travels, both physical and existential, Cohen has always called Montreal home. In an interview with UP! Magazine, Cohen confesses his true love for la belle ville. "Montreal has a very special flavour for me—once a Montrealer, always a Montrealer." He still owns a walkup in le Plateau near parc du Portugal off St-Laurent boulevard. "I go to a lot of the restaurants and little coffee shops around there. I get my smoked meat sandwiches at The Main. Schwartz is very famous. The Main isn't so famous, but that's where I go."

In 1966, Cohen penned what might be his most famous song with the landscape of Montreal in mind. In an interview with the Canadian Songwriters Hall of Fame, Cohen said that before there was any mention of a "Suzanne" he knew it was an ode to Montreal. The song was inspired by the view from the Old Port, specifically the observation tower of the Notre-Dame-de-Bonsecours chapel, known as the sailors' church. That was in 1966.

Forty-eight years later, Cohen has made his way to the top floor of his metaphorical tower of song: Well my friends are gone and my hair is grey. I ache in the places where I used to play. And I'm crazy for love but I'm not coming on I'm just paying my rent every day in the Tower of Song.

The tune, a fan-favourite since its release on 1988's "I'm Your Man" record, was written in his mid-50s. Now, at the age of 80, Cohen explores the question of aging once again in "Slow", the first song off his new album: I'm slowing down the tune. I never liked it fast. You want to get there soon. I want to get there last. It's not because I'm old. It's not the life I led. I always liked it slow. That's what my momma said. It's not because I'm old. It's not what dying does. I always liked it slow. Slow is in my blood. Keep on rolling, Mr. Cohen. And go as slow as you want. Montreal, Canada, and the world are listening and waiting.

Winter 2015, Vol 7 N°1
Thanks to Chengyi Chan for the information!