Sylvie will do one UK show on 25th October at the Betsey Trotwood pub/venue in Clerkenwell, London, accompanied by Jason McNiff, who she has toured with in the past.
After that, she has set up a show in Dublin on the 28th October. She will be accompanied by an acclaimed Irish guitarist named Clive Barnes.- See the first poster.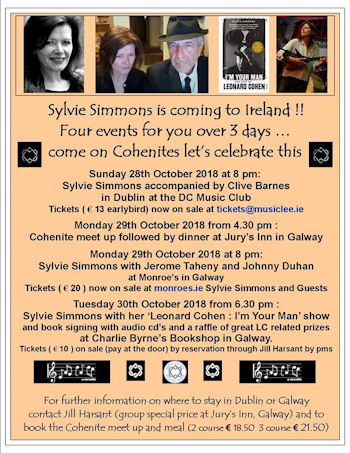 After Dublin, she goes to Galway (see the second poster). Two local Cohenites, Jill Harsant and Jerome Taheny, have organised a Leonard Cohen meet-up in Galway, Ireland, with two shows - one at a well-known Galway book shop, the other at a theatre - and a dinner. Irish singer-songwriters Jerome Taheny and Johnny Duhan will join Sylvie at the shows.
After Ireland, Sylvie is flying to Paris in November to do a two week tour of events, to promote the French translation of her Cohen biography.
(Thanks to Sylvie for the info!)