Canada Post has honoured the late, legendary singer, songwriter and Montrealer Leonard Cohen with a new set of stamps, and has done so on what would have been Cohen's 85th birthday: Saturday, Sept. 21, 2019.
Four million Cohen stamps were printed, and they will only be available for a two-year period. Limited edition collectibles were also announced on the same day.
Stamps for domestic use
Stamp for letters to USA
Stamp for oversized letters
Stamp for international letters
Booklet of Nine Stamps
Pane of Six Stamps
Collectibles
Set of Four First Day Covers
(Limited edition of 15,000)
Uncut Press Sheet
(Limited edition of 2000 sheets)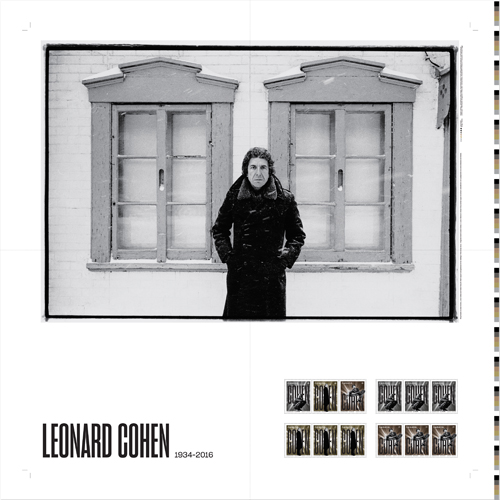 The folded uncut press sheet is sold packaged in a simulated liner and album cover, inspired by Cohen's many recordings.
Other collectibles: three framed enlargements of the stamps, and a framed commemorative pane.
Read the Leonard Cohen pages of the Details Magazine here:
https://www.leonardcohenfiles.com/CP-detailsmag.pdf
You will find all prices on these pages!
How to buy the stamps and other collectibles:
In Canada and USA best to call 1-800-565-4362
Around the world or for any online shopper of as of Sept. 20 at 5:30 pm Eastern time visit out online store at
https://www.canadapost.ca/cohenstamps
This will bring straight in to all Cohen material.
Social Media Links:
Facebook: facebook.com/canadapost
Twitter: twitter.com/canadapostcorp /
Instagram: Instagram.com/canadapostagram