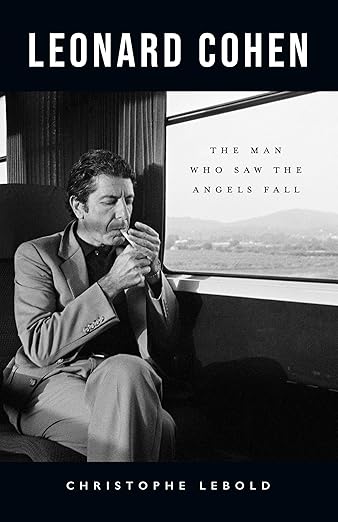 LEONARD COHEN L'homme qui voyait tomber les anges by Christophe Lebold
("Leonard Cohen, the man who saw the angels fall")
Published by Camion Blanc Eds, October 2013, 978-2357793972
Leonard Cohen : The Man who saw the angels fall
by Christophe Lebold

To be Casanova and to be a monk. To be a joker and a melancholic. To be a poet, a star, a troubadour and an angel : to be Leonard Cohen. Throughout his life, the eternal passer-by has unfolded his trajectory with a taste for paradox, ceaselessly doing what he does best : going from cities to cities, seducing women and reviving hearts.

From Montreal and New York to the Greek island of Hydra, Leonard Cohen : The Man who saw the angels fall closely follows the singers's cosmopolitan life and examines his perpetual dialogue with God, with himself and with avalanches.
In the book, we see how six decades of radiant pessimism and a few thousand nights spent in hotel rooms turned a young Jewish poet who sends flowers to Hitler into an electro-crooner specialised in black humour.

Through a stimulating analysis of Cohen's work, the book investigates the singers's broken prayers and lethal love songs, ceaselessly interrogating that unique and voluptuous gravity which makes Leonard Cohen an undercover archangel infiltrated in the world of rock. His mission : to show us that the other side of darkness is called pure light.
Thanks to Dominique Boile and Christophe Lebold