From Life magazine archive
Photos by James Burke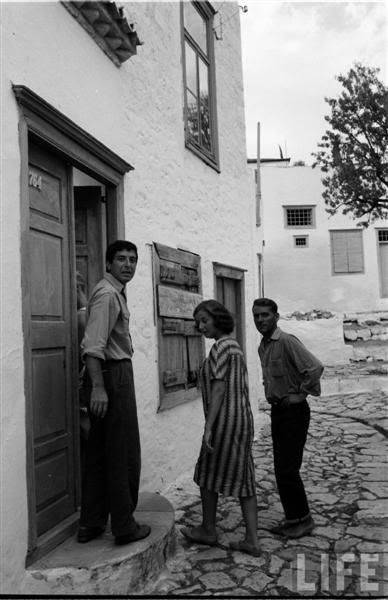 Dem
Athens 2008, Prague 2009, Paris 2012
Posts: 2587
Joined: Sat Sep 18, 2004 10:17 pm
Thanks - these are great pics (and the ones below). I love these early photos...Leonard sure knows how to live!
Great photos never seen them before!
I have been a Leonard Cohen fan for 28 years feel free to email me if you wish to keep in touch!
Dem,
Thank you for these photos! I see they are from the Life archives. How many of them and which ones were actually printed in the article? What issue? Forgive my ignorace if this info has already been posted.

Kindest regards,
Mary
1993 Detroit 2008 Kitchener June 2-Hamilton June 3 & 4-Vienna Sept 24 & 25-London RAH Nov 17 2009 NYC Feb 19-Grand Prairie Apr 3-Phoenix Apr 5-Columbia May 11-Red Rocks Jun 4-Barcelona Sept 21-Columbus Oct 27-Las Vegas Nov 12-San Jose Nov 13 2010 Sligo Jul 31 & Aug 1-LV Dec 10 & 11 2012 Paris Sept 30-London Dec 11-Boston Dec 16 2013 Louisville Mar 30-Amsterdam Sept 20
DANG! What a fine looking man... he was and ever shall be.

Thanks for these photos, Dem. I've never seen them, either.
"Be yourself. Everyone else is already taken."
~ Oscar Wilde
MaryB:
Unfortunately I haven't been able yet
to locate the exact article in the LIFE magazine.
It must be in the years 1960-61.
I found these photographs in the LIFE magazine archive
that is now available on the Internet.
There are many more of them, for example there are
about 20 shoots from the donkey ride up to the Hydra monastery
and about another 20 shoots from that night at Dousko's.
Here I posted only a selection.
Sadly the photographer, James Burke, was killed in an
accident on the Hymalayas in 1964:
Athens 2008, Prague 2009, Paris 2012
Last edited by
3mariza1
on Thu Jul 07, 2011 10:56 pm, edited 4 times in total.
By clicking any of the photos in the link
that 3mriza1 posted above you will go
to the LIFE magazines archive and then
and then go to "related images".


Dem
Athens 2008, Prague 2009, Paris 2012
Posts: 47
Joined: Tue May 05, 2009 12:38 am
Location: Germany
Contact:
you can buy the most modern and expensive cam in the world.
the old,most grainy,black and white pics are telling the whole story....