Hi Kush,
The Attica poem brought back memories, a lighter one being the "Attica scene" in the movie
Dog Day Afternoon
:
http://www.youtube.com/watch?v=PKEPrc9nwNU
. There's probably
another clip available where the chanting of "Attica" isn't turned down to allow the commentary
to be heard.
Lots of memories of Muhammad Ali in his younger days contemporaneous with his recitations of the
two poems. Among them, his signature patter regarding Joe Frazier. Hadn't heard the poem before.
Muhammad Ali will be receiving the Liberty Medal:
http://espn.go.com/boxing/story/_/id/81 ... -recipient
.
Thanks for the links Steven. I have not seen Dog Day Afternoon. The young Al Pacino looks a little like the young Bruce Springsteen.
Ali came to his great rival's funeral last year - disease may have ravaged his movements and robbed him of speech but his mind and wit is said to be as good as ever. He turned 70 this year.
http://www.youtube.com/watch?v=Ttua0GJB4VU
p.s. The newsreader refers to Ali as 65 but in fact he turned 70 in January this year.
Muhammad Ali was among the humanitarians who escorted the Olympic flag last night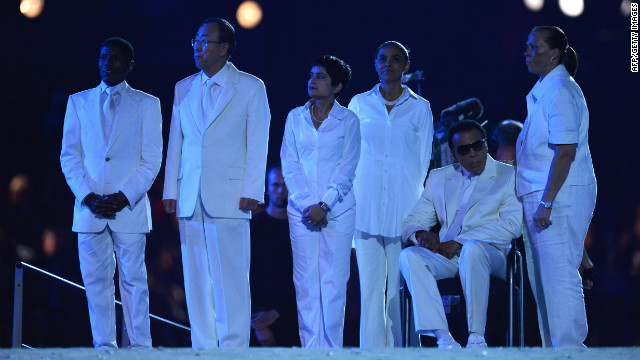 http://edition.cnn.com/2012/07/27/sport ... index.html
David Frost:
What would you like people to think about you when you've gone?
Mohammad Ali:
I'd like for them to say: He took a few cups of love.
He took one tablespoon of patience,
One teaspoon of generosity,
One pint of kindness.
He took one quart of laughter,
One pinch of concern.
And then, he mixed willingness with happiness.
He added lots of faith,
And he stirred it up well.
Then he spread it over the span of a lifetime,
And he served it to each and every deserving person he met.