The 2015 Rock And Roll Hall Of Fame
http://rockhall.com/inductees/
Green Day
Bill Withers
Stevie Ray Vaughan and Double Trouble
Joan Jett and the Blackhearts
The Paul Butterfield Blues Band
Lou Reed
Ringo Starr
The "5" Royales
Green Day, Lou Reed, Joan Jett, Ringo Starr Lead 2015 Rock and Roll Hall of Fame

Bill Withers, Stevie Ray Vaughan and Double Trouble, Paul Butterfield Blues Band will also be inducted next April
http://www.rollingstone.com/music/news/ ... z3M2naadRh
Rock and Roll Hall of Fame taps Stevie Ray Vaughan, Green Day, Joan Jett, Paul Butterfield Blues Band, Lou Reed and Bill Withers for Class of 2015
http://www.cleveland.com/music/index.ss ... cart_river
Lou Reed, Green Day and Bill Withers to Join Rock Hall of Fame
http://artsbeat.blogs.nytimes.com/2014/ ... fame/?_r=0
Make some noise for the new #RockHall2015 Inductees! More:
http://www.rockhall.com
! #RockHall #Cleveland
https://twitter.com/rock_hall/status/54 ... 20/photo/1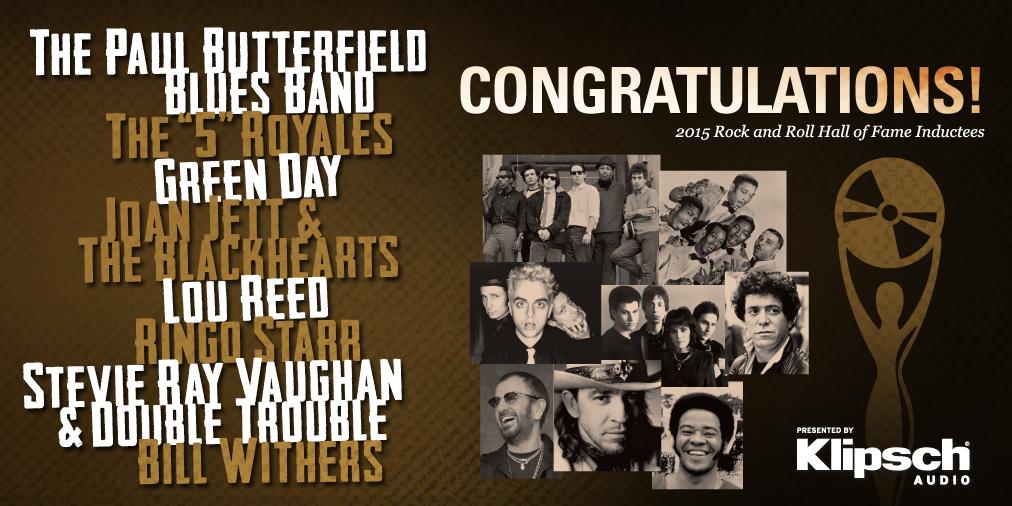 Ringo Starr on Hall of Fame Induction: 'Finally, the Four of Us Are In'
"This came out of the blue," he says. "I didn't expect it and I didn't know that George and John were in"
Read more:
http://www.rollingstone.com/music/featu ... z3M3EWFp8T
Follow us: @rollingstone on Twitter | RollingStone on Facebook
Joan Jett on Hall of Fame Induction: 'I'm Flabbergasted'
"It's going to take a few minutes to sink in before I see how I really feel about it," she says
Read more:
http://www.rollingstone.com/music/featu ... z3M3EayzLJ
Follow us: @rollingstone on Twitter | RollingStone on Facebook
Bill Withers Contemplating Rare Performance at Hall of Fame Induction
"I don't want to be one of those old guys that sounds like a gerbil trying to give birth to a hippopotamus," he says
Read more:
http://www.rollingstone.com/music/featu ... z3M3Efuau5
Follow us: @rollingstone on Twitter | RollingStone on Facebook